All Malta in One Day
Duration: 8 hours
from 1 to 3 persons - 400 Euro
from 4 to 8 people - 420 Euro
9 or more - upon request
In today's hectic life we are trying to visit as many places as possible in a short span of time. This private excursion will give you a chance to see the most important sites of Malta just in one day.
Our private excursion will start from visiting Valletta – today's capital of Malta. The city was built by the Knights of St.John and during this part of the tour you will have a chance to discover the history of the Order from the early times and up to the present day, to see the beautiful palaces and fortifications of the city. The tour of Valletta will not be completed without a visit to St. John's Co-Cathedral with its famous rich décor and one of the Caravaggio's last works - "Beheading of St.John". We can also visit the State Rooms and the Armoury at the Grand Master's Palace. The private tour will continue to Three Cities area, where the Order set up its first headquarters up on arriving to Malta in 1530.
After leaving the Grand Harbour area we will be heading to the south of Malta, where we can visit one of the Neolithic Temples and have a stop for lunch and swim at the Blue Grotto; you can also take a boat ride there to see the caves.
The afternoon part of our private tour will take us to the central part of the island, where we will visit a real gem – the medieval capital of Malta – Mdina. Today the city is a unique combination of mystically quiet streets and narrow byways, churches and small chapels, medieval piazzas and the palaces of the local nobility. In Mdina we can visit St.Paul's Cathedral and then – St.Paul's Catacombs in Rabat.
If the time will allow, we can also visit the botanic gardens of San Anthon and President's Palace.
Reviews
Apr 25, 2016 | Natalie and Alex, New Jersey, USA
We visited Malta in September 2013 and spent two wonderful days with Alyona. I need to say, that we travel a lot and always hire private guides in different countries. Alyona was by far the best guide we ever had. She is passionate about Malta and its history and that makes her excursions especially interesting. She does her own researches on various historical facts and will tell you a lot of information that is not available in travel booklets. She uses only luxury cars and is always on time. She is a great travel companion and will make you feel extremely comfortable, while spending your days with her.
---
Mar 16, 2016 | Korneev family, Tyumen
Thank you Alena for his help in the selection of the tour! We got exactly what you pay for.
---
Aug 12, 2015 | Ivan Petrov, Moscow
I liked Excurtion to Blue Grotto and the capital of Malta - Valletta, which I got, thanks Alena! The following year, going back to Malta!
---
All reviews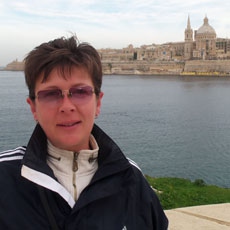 I would be very grateful if you would send us your feedback about the tour!
Send my review