Private Shore Excursion in Malta
Duration: 5 hours
from 1 to 3 persons - 290 Euro
from 4 to 8 people - 360 Euro
9 or more - upon request
Private Shore Excursion in Malta (5 hours)
Going for Mediterranean Cruise and one of the port of calls is Malta? You do not have much time, but you would like to see as much as possible? I can offer to you a specially created private tour for the cruise liner's passengers.
During this private excursion I will give you a lot of information about Malta, focusing on the most important periods of its history. We will visit the today's capital of Malta Valletta, stopping at St.John's Co-Cathedral and Grand Master's Palace (entrance fees are extra) and this part of our private tour will be dedicated to the history of the Order of the Knights of St.John. We then proceed to the center of the island – to the medieval capital of Malta Mdina. Here we can visit St.Paul's Cathedral and Catacombs (entrance fees are extra) or just have a stroll around the old city with it's beautiful noble palaces, charming narrow streets and small chapels. On the way back to the seaport we will pass through the north part of the island and modern holiday resorts of St.Julian's and Sliema. Depending on your preferences, during this private tour we can also visit one of the Neolithic Temples or Botanic Gardens.
Reviews
Ваш отзыв будет первым!
All reviews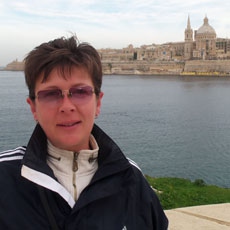 I would be very grateful if you would send us your feedback about the tour!
Send my review